Friday, April 26, 2019
Let the truth and glory of the cross of Jesus Christ and His resurrection dwell richly in our heart, mind, spirit and soul as we remember with thanksgiving the Cornerstone of our faith, our great and faithful God and Savior Jesus Christ, for death and hell could not keep Him in the grave!
"Bless the Lord, O my soul; and all that is within me, bless His holy name! Bless the Lord, O my soul, and forget not all His benefits: Who forgives all your iniquities, Who heals all your diseases, Who redeems your life from destruction, Who crowns you with lovingkindness and tender mercies, Who satisfies your mouth with good things, so that your youth is renewed like the eagle's" (Psa. 103:1–5).
Some Christians believe that Jared Kushner, because he is extremely wealthy, has a charismatic nature, and has been drafting a Middle East peace plan since President Trump was inaugurated, and owns an office building with an address of 666 Fifth Ave., Manhattan, N.Y., that he is the biblical Antichrist. But that's entirely false.
Undetected by most, Antichrist has already been building his One World Religion via deception and false unity now for many years. But it's not Kushner, he doesn't fit the biblical descriptions of "the son of perdition". The first of many truths in that regard is that he is married to Ivanka Trump and they have three children together. And God says of Antichrist that "He shall regard neither the God of his fathers nor the desire of women" (Dan. 11:37).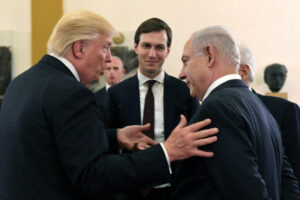 But what is possible is that because Jared Kushner is Chief White House Advisor to U.S. President Donald Trump, and thus has international influence, and is anti-Christ in his Orthodox Jewish religion, he could draft the Middle East peace plan, but have the more globally prominent and revered "man of sin" (2 Thess. 2:3) administer the "covenant with many" (Dan. 9:27) to the Jewish-hating nations of the Middle East and the whole world.
A quality that endears Jared Kushner to Israel is the fact that he is an Orthodox Jew. And his wife, Ivanka Trump, has converted from Christianity to Judaism, meaning she had to deny her Christian faith! Orthodox Jews hate Christ. With the same malice expressed by first generation AD national Israel, Orthodox Jews yet reject Christ and His testimony of being the Son of God. Demanding their will of 2,000 years ago they "answered [Pilot] and said, 'His blood be on us and on our children'" (Matt. 27:25). And so it remains today. Pray for their conversion.
Important to the end-times, Jared Kushner is hostile to Jesus Christ. His international influence provides him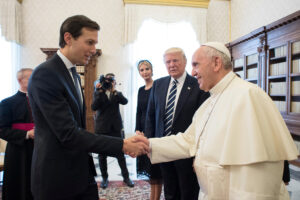 both the motivation and opportunity to attempt destroying the Christian claim that knowing Christ equals peace. The history of Roman Catholicism's violence and death, however, stands in stark contrast to that claim, as the world largely views Christianity through the lens of Catholicism. The Middle East peace will be Antichrist showing the world that his One World Religion and not Rome's historically violent Christianity, nor divisive Judaism holds the keys to world peace, and Kushner could be the agent through whom that Antichrist transition occurs.
The current pope, or his successor, will ultimately abandon false Roman Catholicism and exalt "himself above all that is called God or that is worshiped, so that he sits as God in the temple of God, showing himself that he is God" (2 Thess. 2:4). Thus he overcomes the world's perception of false Christianity's violent past, and Orthodox Judaism's rejection of Christ, to establish his own One World Religion given him by Satan. The world and Orthodox Jews will rejoice over their "new messiah". But "when they say, 'Peace and safety!' then sudden destruction comes upon them, as labor pains upon a pregnant woman. And they shall not escape" (1 Thess. 5:3).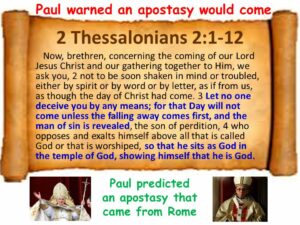 The temporal peace over which the world rejoices will be shattered by its author forty-two months after its beginning, and will suddenly be replaced with four mid-tribulation events and the mark of the beast that will terrify those not prepared or counted worthy to escape. "Watch therefore, and pray always that you may be counted worthy to escape all these things that will come to pass, and to stand before the Son of Man" (Luke 21:36).
Because reborn Israel has now aged 71 years, and Jesus said the generation that sees that would not pass away "till all these [end-time] things take place" (Matt. 24:32–35), and God identified a generation as 70 to 80 years according to Psa. 90:10, only about two years remain until the final seven years of this present age begins. However, that "covenant with many" (Dan. 9:27) could begin before two years expires. What's important to all Christians is that we heed the Words of Jesus, and "watch" according to Luke 21:36. God bless you with discernment as you watch!
But most importantly, have you been born again? Have you repented of your sins and unbelief to trust in Jesus Christ for salvation? If not, do that now before anything else! Time is very short. The international religious intrigue now sweeping the world is deceiving many as the "man of sin is revealed" (2 Thess. 2:3), who comes "according to the working of Satan, with all power, signs, and lying wonders, and with all unrighteous deception among those who perish, because they did not receive the love of the truth, that they might be saved" (2 Thess. 2:9–10).
No one has the promise of being alive tomorrow, or finding God later. God can call our life to account in the next second, hour or day. If you were to die in the next few moments, would you enter heaven's gates or hell's flames? The Church rarely places these stark, convicting questions before the people. And there's no middle ground, no purgatory. When we die there is no chance for a do-over. Therefore, "Today, if you will hear His voice, do not harden your hearts as in the rebellion" (Heb. 3:15). And "it is appointed for men to die once, but after this the judgment" (Heb. 9:27).
Marlin J. Yoder